Speakers
Dr. Voddie Baucham, Jr.
Voddie Baucham wears many hats. He is a husband, father, former pastor, author, professor, conference speaker, and church planter. He currently serves as Dean of Theology at African Christian University in Lusaka, Zambia.
Voddie makes the Bible clear and demonstrates the relevance of God's word to everyday life. However, he does so without compromising the centrality of Christ and the gospel. Those who hear him preach find themselves both challenged and encouraged.
Voddie's area of emphasis is Cultural Apologetics. Whether teaching on classical apologetic issues like the validity and historicity of the Bible, or the resurrection of Christ; or teaching on biblical manhood/womanhood, marriage and family, he helps ordinary people understand the significance of thinking and living biblically in every area of life.
Dr. Baucham holds degrees from Houston Baptist University (BA in Christianity/BA in Sociology), Southwestern Baptist Theological Seminary (M.Div.), Southeastern Baptist Theological Seminary (D.Min.), an honorary degree from Southern California Seminary (D.D.), and additional post-graduate study at the University of Oxford, England (Regent's Park College).
Voddie and his wife, Bridget have been married since 1989. They have nine children: Jasmine, Trey (Voddie, III), Elijah, Asher, Judah, Micah, Safya, Amos, and Simeon. The Bauchams are committed home educators.
Pastor Jason Walter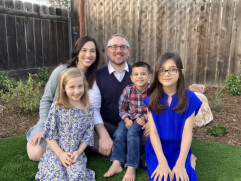 Jason and his wife Jodi have been married since 2006 and have three children, Ava, Audrey, and Lucas. Jason studied the Biblical languages at Northland International University and then received his M. Div. from Westminster Seminary California and the Certificate of Reformed Baptist Studies from the Institute of Reformed Baptist Studies. He was ordained to the gospel ministry and called as vocational pastor of Christ Reformed Baptist Church of Vista, CA, in May of 2011. He also serves on the board of trustees of International Reformed Baptist Seminary (irbsseminary.org).