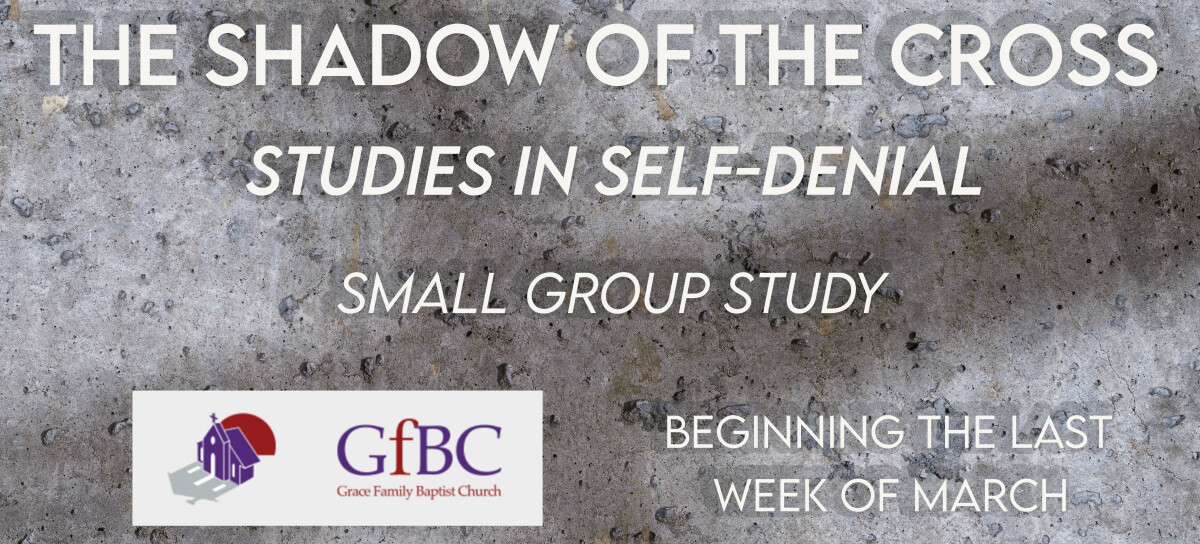 Every Sunday, from 03/26/2023 to 05/21/2023, 6:30 PM - 12:00 AM
The Shadow Of The Cross: Studies in Self-Denial Small Group
We wil be doing a 7- week study on self-denial using the book "Shadow Of The Cross: Studies in Self-Denial" by Walter J. Chantry, available in the bookstore at church or online here.
Please sign up for a small group ASAP, as the groups will be starting as early as March 21. Click here to view a map of where the host homes are located.

"The message of the Cross is the heart of the Christian gospel. The records of the life of Jesus devote more attention to it than any other part of his ministry. The rest of the New Testament constantly underlines its centrality for Christian faith.
But Jesus and the apostles spoke of 'the cross' as a principle of Christian experience as well as the chief symbol of God's love. Belonging to Jesus Christ (he said) meant taking up the cross personally and living for him rather than for ourselves.

In 'The Shadow of the Cross', Walter J. Chantry restores this often neglected teaching to its central place. Writing with the stirring and probing sharp-edged style which is the hallmark of all his books, he expounds in brief compass the practical necessity of bearing the cross and the joy of living under its shadow. He then applies this to such areas as marriage, Christian liberty, the work of the ministry, and prayer."
Schedule:
Week 1: Unto Him Who Died and Rose
Week 2: Take Up Your Cross
Week 3: Joy Beyond the Cross
Week 4: Christian Liberty
Week 5: Marriage and Self-Denial
Week 6: The Christian ministry and Self-Denial
Week 7: Prayer