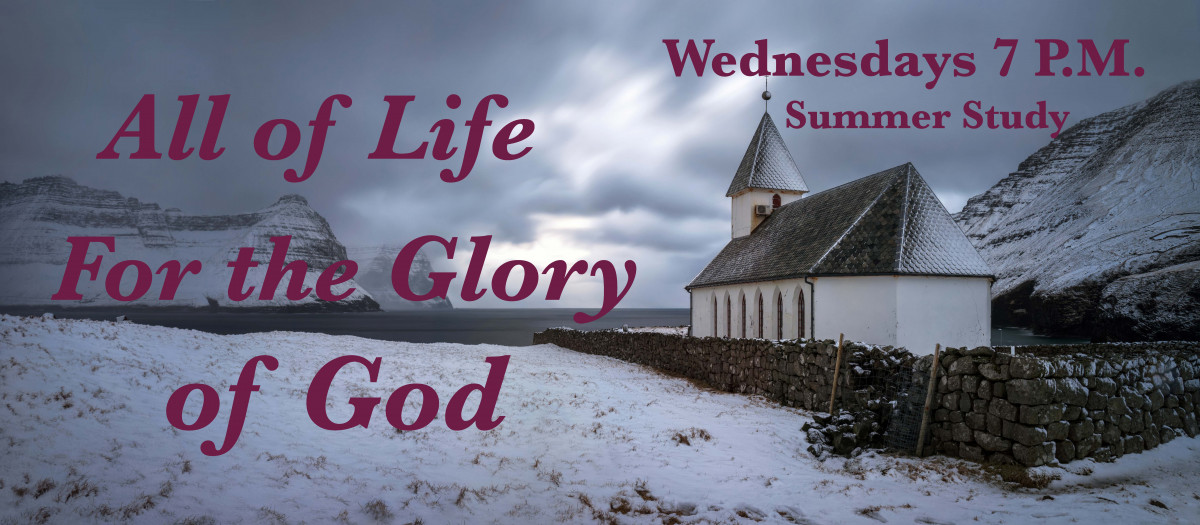 Every Wednesday, from 06/03/2020 to 08/26/2020, 7:00 PM - 12:00 AM
"'Joyless. Severe. Fanatical.' 'Haunted by the fear that someone, somewhere, may be happy.' That's the Puritan reputation. But to what extent is that reputation deserved? Drawing on the latest research, and featuring interviews with some of the most celebrated scholars in the field, this beautiful and atmospheric new documentary takes us from the birth of Puritanism all the way through to its influence in the present day."
This is a study that will be beneficial for the entire family. Walk with us as we study the Puritans in their historical context and consider how we can use all of life for the glory of God.
Join us for our summer study Puritan: All of Life for the Glory of God. Beginning in June on Wednesdays at 7 P.M.
Get a copy of the workbook. They will be delivered at the end of May. Using the code PICKUP allows you to pick the workbook up at the bookstore and avoid paying shipping.
"The Puritans, as a body, have done more to elevate the national character than any class of Englishmen that ever lived. Ardent lovers of civil liberty, and ready to die in its defense—mighty at the council board, and no less mighty in the battlefield—feared abroad throughout Europe, and invincible at home while united—great with their pens, and no less great with their swords—fearing God very much, and fearing men very little—they were a generation of men who have never received from their country the honor that they deserve."
–J.C. Ryle (introduction to Thomas Manton's Works, 2:xi)
Official Trailer 1
Official Trailer 2
Study Schedule:
June 3rd:
1. William Perkins

2. Richard Sibbs
3. Oliver Cromwell

June 10th:
4. Thomas Goodwin

5. Richard Baxter

June 17th:
6. John Owen

7. Christopher Love

8. John Bunyan

June 24th:
9. John Flavel

10. Matthew Henry

11. American Puritans
July 1st:
12. Jonathan Edwards
13. Katherine Willoughby & Anne Bradstreet

14. Gisbertus Voetius & Wilhemus a Brakel
July 8th:
15. Samual Rutherford
16. Martyn Lloyd-Jones
17. The Westminster Assembly
July 15th:
18. Puritans on Regeneration and Conversion
19. Puritans on conscience
20. Puritans on Zeal
July 22nd:
21. Puritans on Suffering and Providence
22. Puritans on Marriage
23. Puritans on Family
July 29th:
24. Puritans on Education
25. Puritans on Work and Money
26. Puritans on Shepherding
August 5th:
27. Puritans on Preaching
28. Puritans on Church and Worship
29. Puritans on Sabbath
August 12th:
30. Puritans on Evangelism and Missions
31. Puritans on Awakening and Revival
32. Puritans on Politics and Culture
August 19th:
33. Puritans on Paedobaptist Covenant Theology
34. 17th Century Baptist Covenant Theology
35. Practical Conclusions