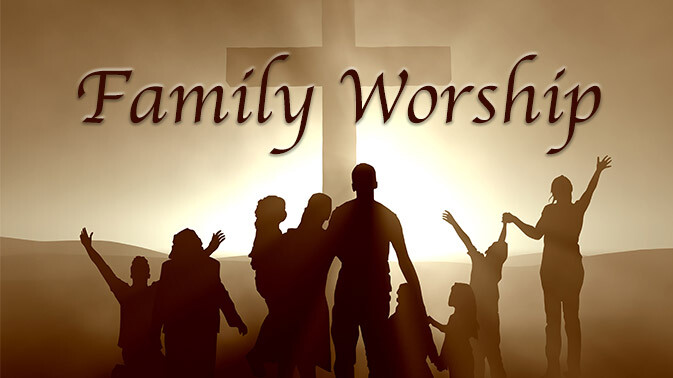 How To Conduct Family Worship
with true spirituality
And first, so far as it is in your power, let not these exercises of domestic piety be wanting in spirituality, truth, and life; let them not consist merely in reading certain passages, and repeating certain forms of prayer, in which the heart is not concerned. It would, perhaps, be better to have no Family Worship than to have such as this. These dead forms are still to be found in some families. But at the present day, when the Church is every where struggling to rise out of its ruins, and when the wind of which Ezekiel spoke is breathing every where upon the dry bones to impart life unto them, we must return to Family Worship and revive it, not in a state of languor and death, but in a state of life and strength. How shall we attain this object? Let us perform the exercises of family piety, not merely as though it a good work which we ought to accomplish, for then we might fall either into the error which we have just pointed out, or into pride; but let us perform them rather like miserable beings who want riches; as famished creatures, who want food to nourish that which is most noble in them. Do it as a duty, if you choose; but do it rather on account of your own wants. The little child knows how to ask for a piece of bread, or even for its mother's milk; and do not we know how to go to God and ask of him his pure and spiritual milk? "Blessed are they which do hunger and thirst after righteousness; for they shall be filled."
with flexibility
We will give you another rule, nay brethren: do not adhere too exclusively, too rigidly to any one particular form. First establish such a service in accordance with your own wants and those of your family; let there be entire liberty; let it be conducted one day in one manner, and the next in another, if you choose; let it be prolonged at one time and abridged at another. Perhaps it were better that this exercise should not, at first, embrace all the members of your household, but should have a smaller and more intimate sphere; this will make it more easy and edifying. Follow these various suggestions; the great matter is, that God be not forgotten under your roof. "Stand fast, therefore, in the liberty wherewith Christ hath made us free, and be not entangled again with the yoke of bondage."
with the Word of God
In the first place, the Word of God should, of course be read, and sometimes, perhaps, other Christian books. In how many families that admirable Book, that Book of the nations, has been in all ages, and is still the most precious of treasures! In how many dwellings has the Bible diffused righteousness, peace, and joy in the Holy Ghost, and submission to all authorities appointed by God! The various books which compose the Bible are almost all of a different nature from one another; it were difficult to have a greater variety in one volume, though the same Spirit of God is in each. This circumstance makes it remarkably appropriate for the nourishment of families; and hence so many poor and obscure families in Protestant countries, possessing that Book, do without any others, and by it are brought to the acquisition, not only of eternal life, but of a remarkable intellectual development. The child, the old man, the woman, and the full-grown man alike find something to interest them there, and to lead them to God. There is something for every situation in life. What abundant consolation have all troubled and afflicted but faithful souls derived always from the Psalms of the Royal Prophet! It is well to read throughout some book of the Scriptures, but it is not necessary to follow the order in which the different books are placed in the Sacred Volume. On the contrary, it is, perhaps, best to turn from the New Testament to the Old, and from the Old to the New; from one of the Prophets to one of the Epistles of the Apostles, and then to one of the historical books of the Old Testament. It is desirable that the person who reads should make some remarks on the passage read. You know how to speak about any other book that you read; is it only here that thoughts and words are wanting? Do you find nothing there that is applicable to the state of your heart, to the situation of your family, to the character of some one of your children? Read that book always, not as a history of past times, but as a book written for you, addressed to you now; you will readily find circumstances and occasions which render it suitable. Nevertheless, if nothing has been given to you, be content with asking the Holy Spirit to impart to every heart the fruits which he has promised for his word. "As the rain cometh down, and the snow, from heaven, and returneth not thither, but watereth the earth, and maketh it bring forth and bud, that it may give seed to the sower, and bread to the eater; so shall my word be that goeth forth out of my mouth; it shall not return unto me void; but it shall accomplish that which I please, and it shall prosper in the thing whereunto I sent it."
with prayer
Another act of worship is, prayer in common, or together. It is true that there are good written prayers; but can you not pray to God aloud yourself? You know very well how to speak to a friend; why should you not know how to speak to God? Is he not your greatest and most intimate friend? How easy is it to approach him when it is in the name of Christ crucified that we come! "Thou art near, O Lord," says David. "While they are yet speaking," God has said, "I will hear." If you can pray in secret, can you not pray aloud? Do not be so anxious about what you shall say; "Prayer requires more of the heart than the tongue, more faith than reasoning." How can it be otherwise than salutary, when, for instance, a father or a mother prays aloud for the children who are present, and enters into detail respecting their sins before God, asking him to give his help and his grace. And how often a family is in a situation in which it is called upon to offer up prayer unto God, for deliverance, for assistance, for consolation! "Ye shall seek me and find me, when ye shall search for me with all your heart," saith the Lord.
with singing
A third act of worship which ought, if possible, to form part of domestic devotion, is singing. In these days man has associated singing with his occupations, and especially with his pleasures; but to praise God was certainly its primitive object. It is to this that the Royal Prophet consecrated it, and shall not we do likewise? If so many profane things are sung in some houses, why should we not sing to the honor of the God who has created and redeemed us? Still more, if sacred hymns are sometimes sung for the sake of the beauty of the sound, shall they not be sung with humility and fervor to celebrate the Lord? "Admonish one another in psalms and hymns and spiritual songs, singing with grace in your hearts to the Lord."
at the most convenient time
But some will perhaps say, At what time ought we thus to think of God and approach him together? I answer, whenever you choose, at the most convenient hour, when you will be least disturbed by your other business. This is generally in the evening; perhaps it were better, on account of the fatigue of the day, that it should be in the morning; and best of all both morning and evening. When you have eaten your morning meal, or even while you are eating it, could you not spend that time which is usually spent either in saying nothing or in talking of trifles, in reading a few words which would raise your thoughts to God, or in hearing them read? I am about to begin the day by the first function of the animal being; but wilt not thou, O my spiritual and immortal soul, do any thing or receive any thing now? I am about to feed my body with that which God has created; but do thou, O my soul, awake and receive thy food from the Creator! O God! thou art my portion forever! O God! thou art my God; early will I seek thee! What a blessing, my brethren, will such a beginning bring down upon the whole day, and what a happy disposition of mind it will give you!
And to you, Christian parents, let the evening of the Lord's day, that season when the children of irreligious parents run to places of dissipation, be peculiarly precious and sacred. Instruct your household in the way of the Lord, and your instructions at that time will be particularly blessed, provided your children see that you are really in earnest in the work which you are performing.
with singleness of heart
To all this, my brethren, add the essential thing: a life in accordance with the sacredness of the worship which you offer unto God. Be not one man before the altar of God and another in the world, but be truly one man at all times. Let your behavior throughout the day be a living commentary upon what you have read, heard, or said in the hour of devotion. "Be ye doers of the word, and not hearers only, deceiving your ownselves; for the sacrifice of the wicked is an abomination to the Lord; but He loveth him that followeth after righteousness."
---
Original article found at Chapel Library
https://www.chapellibrary.org/files/7213/7643/3202/fwor.pdf